*Updated February 3, 2011
**Any questions on our quality cat furniture or custom requests, call (303) 678-7493 or our email address is even faster. felinefanatics@gmail.com
- Thank you!
Waiting or looking for a great gift for your cats at the last minute? Our high quality - handcrafted cat furniture is the purrffect choice. Anything from cat condos, cat trees, cat towers, cat perches for window placement, or even a simple cat scratching post.
New high quality cat furniture is the purrfect gift!
Be sure to refresh your web browser to see the latest updates on deals on our quality, hand crafted cat furniture!
Cat furniture needs to be top quality. This hand crafted cat furniture is built just for you!
*90 Day Warranty on all of our top quality, fully-assembled cat furniture! 100% satisfaction or your money back!
Our Cat Furniture Products:
Testimonials - Customer Reviews
Carpet Choices for Cat Furniture
Checks or Money Orders *Secured
Cat Condos - Fully Assembled sale
Feline Related Shopping
Voted "
Site of the Week
" on Mostpopularsites.net, by customers and shoppers like you! Thank you!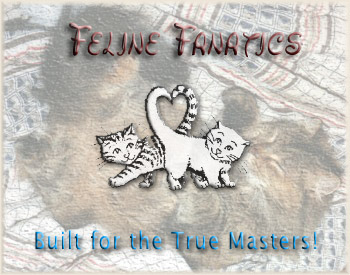 All Discount Cat Furniture Hand-Crafted in Colorado U.S.A.!!
Hello fellow cat lovers!! Come check out our cheap & high quality cat furniture that's all shipped fully assembled!! Discount cat furniture is always a bonus!
While your here take a peek at getting a bargain on our cat scratching furniture with FREE Shipping! We hold top positions on several search engines for keywords like, discount cat furniture, cheap cat furniture, cat trees, cat condos, cat towers, cat perch, cat furniture or cat scratching posts. Our site is always fun, especially our Photo Gallery, and it's a great place to shop for bargains...have fun!

Start off the New Year right: Our BIGGEST FREE SHIPPING SALE ever!!!
**HUGE SALE: Free Shipping on most of our larger pieces of cat furniture and they are Fully Assembled! Offer valid thru this website only. Discount cat furniture with FREE shipping! Click this link for **FREE Shipping Specials** , great deals for oversized fully assembled cat furniture! Also, buy a quantity of 2 or more of the same model of cat furniture that isn't on sale and you only pay shipping for the first one! The rest is free!
Click White links or cat furniture images below for navigation. 5 Carpet Choices to choose from. All our cat furniture is Brand New & Hand Crafted!
We use the same trusted payment system as millions do on eBay, PayPal!
Announcement: Due to increased popularity on our cat furniture and taking care of my 3 year old son, please allow at least 10-14 business days for all cat furniture or pet furniture orders to be hand-crafted and shipped out, this time frame may vary. Quality takes time, these pieces of cat furniture are all individually hand-crafted per order.
All smaller cat furniture - $15.00 shipping. $20-$30 shipping on all the rest of our larger fully assembled cat furniture, we pay the difference! *New - 90 Day Warranty on all of our cat furniture!
Our cat furniture has all solid-wood construction. No particle board, cardboard, nails, or plastic used in our cat furniture or pet furniture designs. Fully Carpeted - NO Exposed wood to your cats! High quality means long lasting life and cat furniture that will fit in with the rest of your household furniture. Each piece of cat furniture is individually hand-crafted by us in Colorado, U.S.A.- per order. Solid as a rock, no wiggle or play, and no loose and bulging carpet.. This cat furniture is "Built for the True Masters!"
100% Money Back Guarantee! We are so confident in our cat scratching furniture exceeding pet store quality ,that if for any reason you are not fully satisfied, return it to us in 90 days and we will refund your purchase price!
Our main objective is to give you good, quality, cheap, enjoyable cat scratching furniture or pet furniture, without taking up half your livingroom or costing you a small fortune.  The best part is, all our discount cat furniture comes Fully Assembled! Just take the cat furniture out of the box and place it where you like, we have done all the work for you!
Checks or Money Orders Accepted for our cat furniture: Please fill out our Secured Order Form for this type of payment, payable to information and address on same page. No private information is requested. Your cheap cat furniture or pet furniture will be shipped within specified business days of payment clearance.
About Us: All of our discount cat furniture products are hand-crafted, custom built, and guaranteed for stability and durability. We do not focus on mass-production, instead, we focus on quality, which exceeds any pet store, and personal customer service. Each piece of cat scratching furniture is thoroughly inspected after construction. We currently supply retailers in surrounding areas of Colorado, pet stores and groomers. So buy with confidence, you are buying directly from the cat furniture manufacturer.
Our goal: To provide the highest quality, cheap cat furniture possible, while keeping our prices lower. To Maintain the absolute best personal customer service, above and beyond our competitors. To give Pet stores and suppliers in surrounding areas of Colorado a chance to get cat scratching furniture and pet furniture without the major overhead of shipping, which could keep their prices lower and still maintain nice profits, passing the savings from here to the consumer.
Attention Colorado Resellers: Feel free to contact us @ felinefanatics@gmail.com, or by phone (303) 678-7493 for info.
A few of our happy customers! :)
Click on cat photos to see our gallery!
Return Policy: Notify us by phone or email felinefanatics@gmail.com within 3 days of delivery if not completely satisfied with your cat furniture.  Will refund buying price only, shipping charges are not refundable. Cat Furniture must be returned in new condition. Buyer pays return shipping. Refund granted after inspection of returned cat furniture.
Shipping: Will ship pet furniture anywhere within continental US.  Average time for arrival after shipping, 2-5 business days, depending on location. Email us for special requests. No P.O. boxes please. Cat furniture shipped within 10-14 business days from cleared payment. * Shipping time may vary slightly by demand. Primary carrier is Fed Ex Ground.